A lot of the time we take the people around us for granted. I am going to write a little series about the people in my life.
Best Mates - Katie & Pippa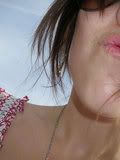 Katie is probably the friend who has known me the longest. We met in school finding an instant affinity as both our surnames begin with the same letter so we were usually sat next to each other if classes were arranged in register order. Soon she is moving to NYC with her hubby which was the catalyst for "Sometimes Redhead" being created. We don't get to see each other that often as we're both so busy but when we do we have ridiculously long catch up sessions which are always great fun. I've chosen this picture as it just captures her brilliantly despite not being able to see much of her. Katie is a whirlwind of fun, positivity & I just adore her smile!
Pippa is the only person on the planet who seems to understand the way my head works. I can just say exactly what I'm thinking without having to try & sort it into any semblance of normal english & she gets it. We met through the Lush IF when I was working at the White City store & she became a regular customer. A year or so later I moved to my current shop & she applied to be a Christmas Temp. Two years down the line we've become such amazing friends that I don't wish to contemplate life without her. This picture of Pippa is one of my favourites as I like to think of it as Manuel (guinea pig) & Basil (bunny) have caught her in their playpen & are keeping her captive for cuddles.