Saturday 11th February 2012, 16:30 I finished my shift in the shop & changed as instructed into my raspberry coloured ballgown.
A short bus & tube ride later I arrived at London Victoria to meet my beloved. We board a train & Tris produced a flask of Earl Grey & some Battenberg!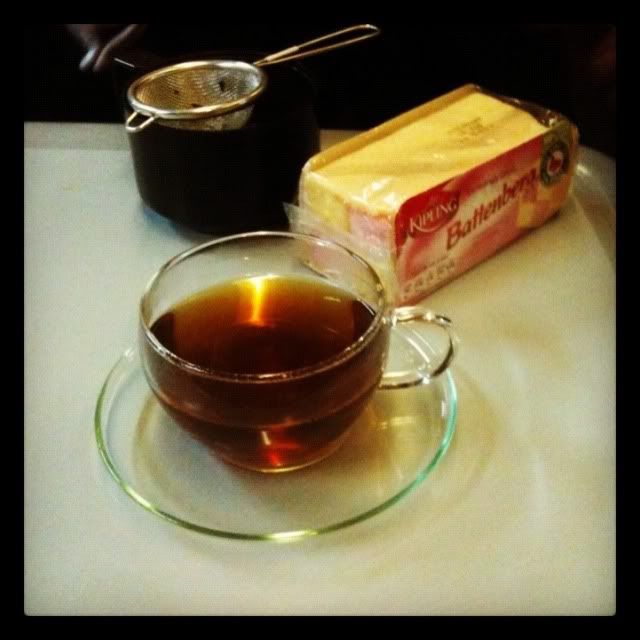 One of our fellow passengers stated that he thought my lovely boyfriend was "The most organised man on the planet" when he saw the Thermos & proper teacup complete with saucer. The lady accompanying this passenger looked rather enviously at our refreshments before resigning herself to the fast food burger & pop in front of her.
After thirty minutes or so we alighted at Redhill Station in Surrey & mercifully had time to check into our room at the Travelodge as my hair was not staying put so I needed to fix it. The building is a charming 100 year old set of cottages. Our room was huge, clean & comfortable apart from being rather cold as the heating was not working very well.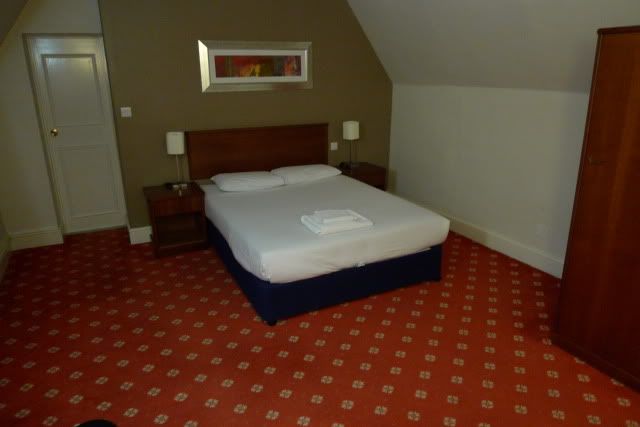 I made rather a mess of the dressing table in my haste to redo my hair as I was overexcited to find out where we were going.
My dearest called us a taxi & after fifteen minutes drive we were deposited at the gates of Pendell House (the taxi driver was concerned about turning the car around on the icy driveway). The house looked amazing in the wintry night with all the windows lit up, flaming torches along the drive & outside the front door a guy breathing & juggling fire!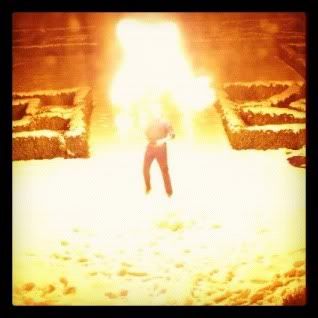 We entered the house & were greeted by Lady Tabitha who provided a glass of bubbly & explained where each of the rooms were to be found. At this point I still had no idea what was going on but my interest was caught by the other people milling around the hallway in beautiful outfits. There was a wonderful mixture of vintage formal fashions to enjoy as we descended the candlelit stairs to the cloakroom.
As we made our way to the bar my handsome escort explained that this was in fact the White Mischief "A Moveable Feast" Valentines Party a decadent party focussing on the somewhat hedonistic banquet spread throughout the house. We had a lovely relax on a sofa in a softly lit room listening to a wonderful string trio watching the other guests in their finery. After a little while we decided to visit the Oyster Room.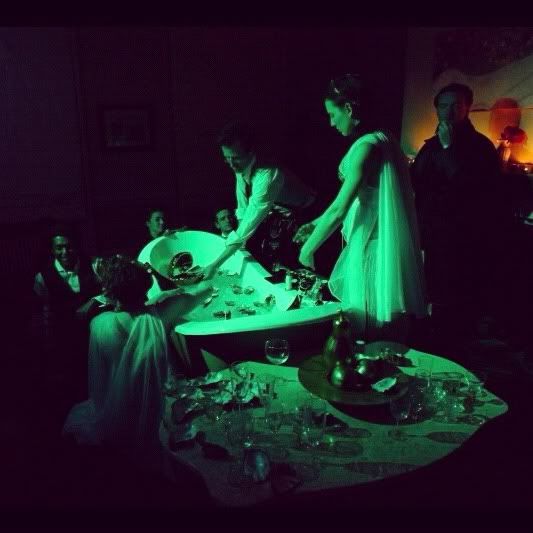 The Oyster Room was full of people lounging on matresses with a pair of nymphs serving oysters on the half shell, oyster mushrooms, chilled prosecco & iced vodka. I'm not overly keen on seafood however I thought it foolish to miss an opportunity to try something new so I ate an oyster. It was not something I particularly liked but I am glad to have tasted it. Tris found it highly amusing watching me convince myself to eat it as I spent rather too long studying it & put myself off several times.
Next was the "Tableau Gourmand" a magnificent spread of roast meats, salmon, salad, fresh breads & cheeses. Ridiculous amounts of tasty food was consumed as we were entertained by the harlequins who were climbing over the tables talking to everyone, interacting with each other & passing along dishes.
Feeling rather full we retired to the Cinema in the basement for a rest & enjoyed a 1950's American public information film about love, old black & white cartoons & some vintage porn!
Lady Tabitha appeared & announced that it was time for us to visit the Crypt for the meat course of the meal. We were introduced to the local "Poacher" who regaled us with tales of his exploits as we were served:
Venison Bone Marrow
Black Pudding
Roast Peacock
Swan Hearts 
I declined the hearts as this was a dish I did not find appetising, all the other dishes were delicious as was the wine which complimented them perfectly.
There was a room of entertainment in the form of juggling, burlesque & cabaret which was sadly rather too crowded for us to stay long. It was probably for the best as I'd had a very early start that morning & was beginning to flag so we decided to give the dancing in the cellar a miss in favour of bed. A taxi was summoned & we made our way back to the hotel where we had a sound nights sleep in the very comfortable bed.
The entire evening was wonderful & we intend to go to several more upcoming White Mischief events this year. This was the most romantic thing I have ever experienced & Tris has proved himself a wonderfully thoughtful gentleman in organising our trip to this enchanting experience.